By Maria Reynolds – President of the NGO owner of the Hogar San Jose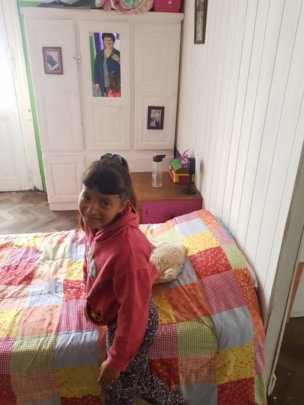 Solcito enjoying her newly decorated bedroom
Hello Friends of the Hogar San José!
These last three months have been quite active at the Hogar.
We are very grateful that Candela, one of our 14 year old girls was adopted by Adriana, one of our care takers. They had developed a very nice relationship over the years, and finally, the Argentine judicial system approved of the adoption. Candela still visits the home and continues attending the same school, but she goes home to her new family every day!
We had some volunteers who managed to get some placards and shelving for all the girls, as well as a corporation that donated the paint (Thank you Club Med!). Each of the girls was able to choose their favorite colours to paint the area around their bed and their new furniture! And both the volunteers and the girls shared the painting job!
At this point, 23 girls live at the home. All 23 are doing therapy (we had to get private psychologists since the public system does not provide individual therapy). It is a big expense but it is very important for the girls to heal their past family stories (most of them have been sexually exploited by their parents, not just abandoned).
Next month we are celebrating the 15th birthday of 4 of the girls with a big party (in Argentina, when girls turn 15, its party time!). Generous donors have contributed with the catering, lending us a good venue, dresses, decoration, etc. And the excitement at the home is very noticeable. It is wonderful to watch the girls looking forward to their big day!
Summer is fast approaching and finantially speaking it is a difficult time of the year. Most of our benefactors and friends go away on holidays, and two of our funding sources diminish considerably (the kiosk that we run at the neighboring school, and the vintage clothing sale). That is why we are currently doing a raffle that helps us cover salaries for the summer. Each raffle is just under 2 US dollars and has 30 great prizes (fridge, tablets, microwave, electric kettle, etc) . In the past our friends that live abroad have helped us buying raffle tickets and if they win a prize they donate it to the girls caretakers, that do a marvelous job. We invite you to to the same, by making a one time donation of a few raffles.
If you are in Argentina, we invite you to come visit us!
Thank you again for your ongoing support.
María Reynolds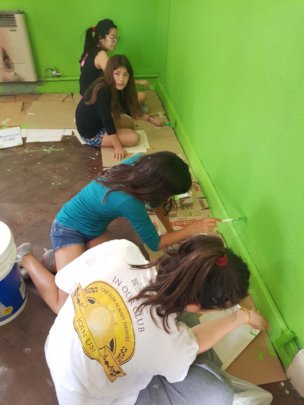 Girls and volunteers painting their bedrooms
Girls painting their night tables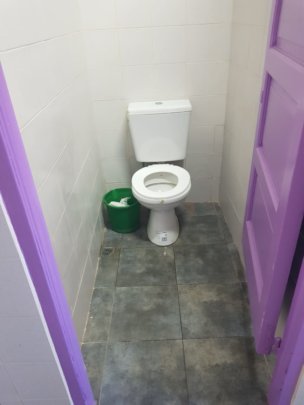 Newly refurbished bathroom
Our raffle