By Maria Reynolds – President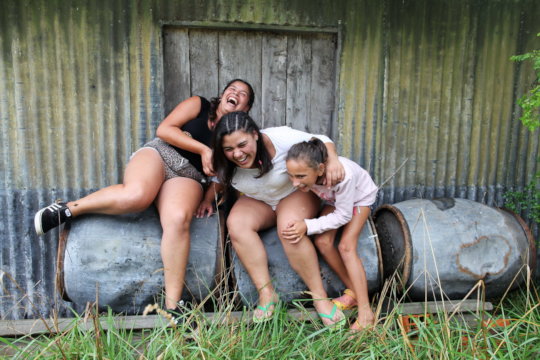 It has been a long summer at the San José Home in Argentina. 33 girls currently live at the Home, and they do not usually go out since volunteers are away. We were fortunate that we could organize a trip to Mar del Plata, a coastal town about 5 hours away from Buenos Aires.
The Argentine Cultural Foundation lent us a house within a farm in the Mar del Plata area, which worked great, because we were able to cook our own food, and the girls could run around the area. 7 volunteers drove the whole group and stayed with the girls the whole 4 days we were there. Everyday we went to the beach for a few hours and then came back to rest in the house.
Many of the girls had never been to the seaside. After jumping into the water, Romina (11) was surprised the sea water was salty!! Needless to say, she wasn´t too happy she had swallowed quite a few gulps.
A picture speaks more than a thousand words, so here go some pictures! Thank you to all the volunteers and the foundation that made it possible.
On a more serious note, thanks to your help, we were able to install solar water heaters, so now the girls can bathe with hot water. We still need to work on the heating system, but at this point, it is totally outside our reach. We are working hard on our fund raising to finish fixing the electricity, this would enable us to install some electric heaters. Our building is 90 years old and it requires lots of repairs.
The girls are starting the school year tomorrow. We are in the process of preparing each girls school supplies. Help is welcome! More news on the next update.
Remember to visit us if you are in Argentina. Thank you for your ongoing support!